As long as advertising like this appears on Facebook, it's going to be hard to trust them.
TheMindQuiz.com (I'm not linking that, for reasons that will be obvious) is a notorious scam, and yet somehow, Facebook has allowed them to "advertise" on their site.
The scam starts out innocuously enough, with this image: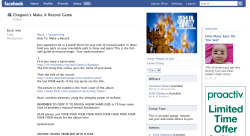 It uses Facebook's standard fonts and colors, to feel as "official" as possible, and suggests that it's a quiz, another of the thousands of "fun" applications Facebook offers to help its users kill time.
I'd suggest that the presence of all those apps makes Facebook more like AOL 2.0 than Web 2.0, but that's another story.
Click the ad, and you'll get this page:
Note the Facebook logo and colors prominently displayed inside the smaller "Welcome … Users" text, again, to try and make this all feel as "official" as possible.
Clicking "next" will take the unsuspecting user through a ten-question "IQ" test, nothing too hard, but nothing too easy either, just about what a high school student might find appropriate.
At the end of the ten questions, the user is asked to enter his or her mobile phone number to get their results, like so:
The text in this snapshot is too small to read, so I'll put write out the relevant fine print for you.
"Amazing Facts subscription sent to your cell $9.99 per month."
"All carriers will be billed $9.99 per month with the exception of Boost and Cricket, which will all be billed at $4.99 per month. By signing up for this service and by entering your personal PIN Code which will be sent to the cell phone number supplied on this website, you acknowledge that you are subscribing to our service."
That's right, by following the large print instructions to "get your Test Results," the hapless user is signing up to pay this company $10/month, automatically renewing every month. If the user doesn't check his bill carefully, he could easily leave this recurring fee on for months to come.
Assuming that the user does realize he's being charged $10/month for these "Amazing Facts" text messages that show up one-three times per week, he then has the challenge of figuring out how to stop them. Information is given here, but the user who didn't read this fine print is probably going to also have a hard time finding the unsubscribe instructions later.
If the user does read the fine print, and decides to leave the page (by entering a new URL, using the back button, or closing the window), a bit of JavaScript will stop the user from being able to leave the page, and throw this alert up:
That's right, you're not going anywhere, buddy. Click "OK" (since it's the only button there), and this appears: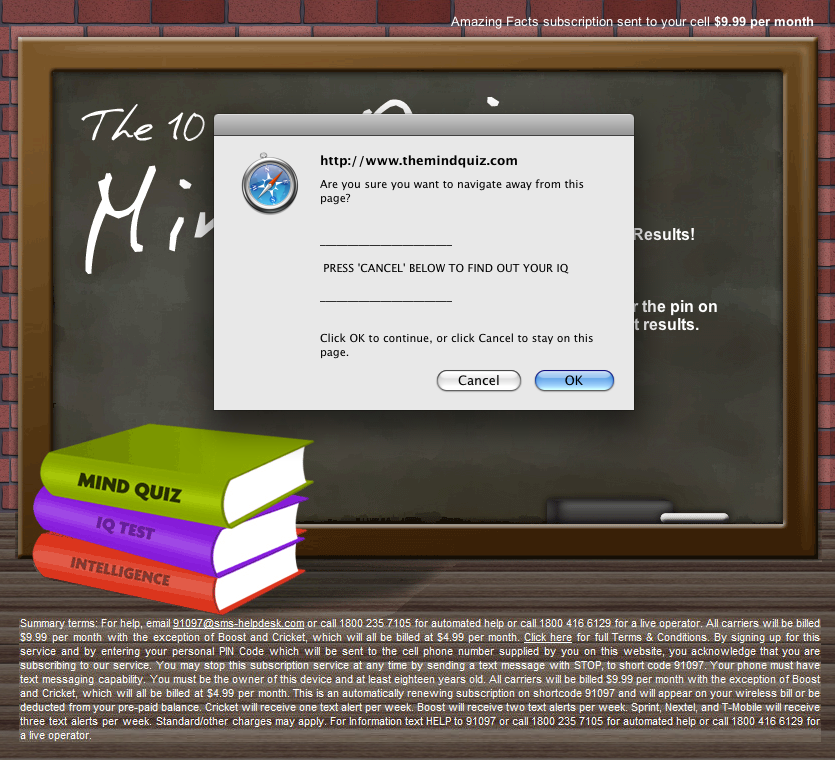 Note the wording here – click "Cancel" to stay on this page. A nice bit of obfuscation there. Not that it matters, of course, because whichever button you click, you'll stay on this page. And you'll continue to stay on this page. Another dialog box will appear letting you know that "someone has a crush on you, click Cancel to find out who it is," and then another exhorting you to enter your cell phone number, then another, and another, and so on ad infinitum.
The only way to escape the trap is to quit the browser entirely.
Is this legal? Yes, probably. Is Facebook responsible? Not directly.
However, publishers and broadcasters have always been held accountable for the advertising that appears on their pages and airwaves. Tiger Beat doesn't run liquor ads, and CNN doesn't air penis enlargement commercials. Facebook is big business, and yet they are playing by midnight hustler rules.
Right now, Facebook wants the world to store all their personal data with them, and use it to log in to other sites, using Facebook Connect. They are asking the world to make Facebook to social networking what Google is to search, or Microsoft is to operating systems.
As long as they host a platform for blatant scams like these, they haven't earned the right to that trust.